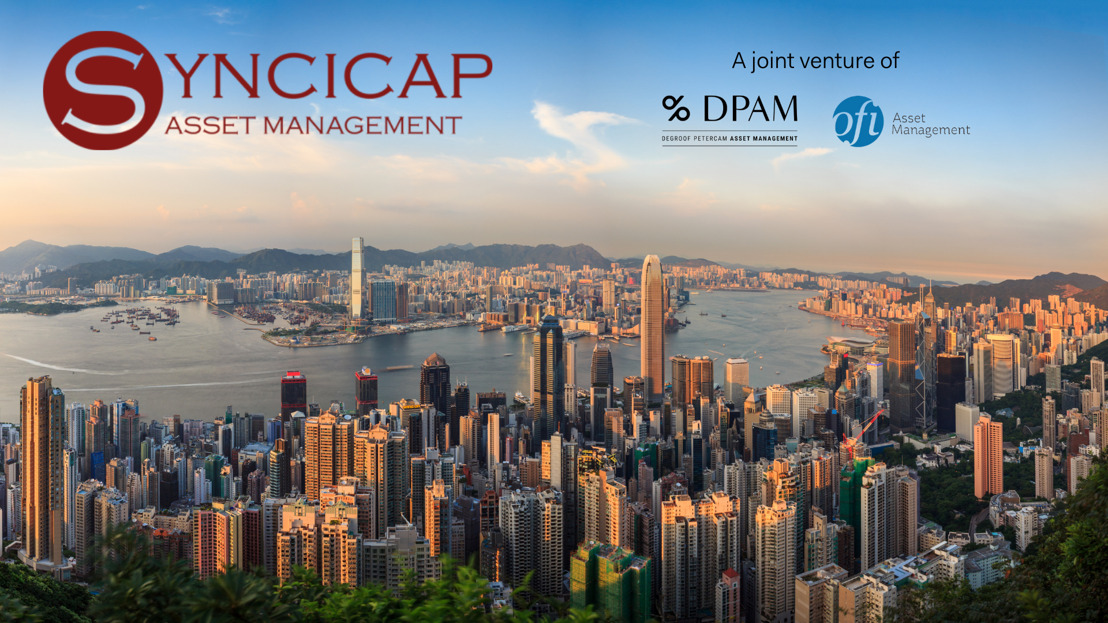 Joint venture Syncicap granted license in Hong Kong
Tuesday, February 15, 2022 — Brussels – DPAM ('Degroof Petercam Asset Management') announces that Syncicap Asset Management, its Hong Kong based joint venture with OFI Asset Management ('OFI AM'), has been granted, in October, the necessary licenses from the Securities and Futures Commission (SFC) to operate in Hong Kong. The licenses grant permission to provide services to professional investors for the distribution of funds, provision of investment advice and portfolio management.
With these licenses, Syncicap's intention is to combine the expertise of two pan European pioneering asset managers in responsible and sustainable investing. The joint venture will serve as a center of expertise for both partners, both for portfolio management and research as well as local distribution to qualified Asian investors.

This local research center materializes DPAM's conviction that a local presence is key to understand the dynamics of the Asian market, which as a result, will add great value and credibility to its in-house research expertise.

Peter De Coensel, Chief Executive Officer of DPAM comments: "DPAM has the vision to grow its business by calling on partnerships as one of its drivers. In OFI AM we have found a partner with whom we share common values and the same vision on partnerships. The granting of a license is a significant development. With our key distinctive characteristics, active management, ESG investments, in-house research and proven investment processes, we strongly believe that a local presence in Asia through Syncicap will enhance our ability to get better insight in the dynamics of the region. We deliver investment solutions that meet current clients' needs and will bring our offer to an enlarged future client base. Together with OFI AM, we leverage on a similar culture and values to make this venture successful."

"This long-nurtured project to create a management company specializing in emerging markets in Hong Kong, in partnership with DPAM, is now a reality for the SYNCICAP AM teams. Our challenge is measured against our long-term ambition. I am proud and happy that everything is already in order and very confident in the future of SYNCICAP AM ", as added by Jean-Pierre Grimaud, Chief Executive Officer of OFI AM.

About DPAM
DPAM is a leading independent asset manager that has been committed to offering active, sustainable and research-based investment solutions. DPAM is part of the Belgian-rooted investment house Degroof Petercam (founded in 1871), is headquartered in Brussels and operates internationally with offices in Amsterdam, Frankfurt, Geneva, Luxembourg, Madrid, Milan and Paris, where it has close proximity to its partners. As of December 2021, DPAM has approximately 50 billion euros of gross assets under management on behalf of institutional clients and distributors.
About OFI AM
OFI AM has been committed to responsible finance for 25 years; it is a reference in asset management and among France's leading SRI asset managers. OFI AM was founded in 1971 and manages 73 billion euro as of December 2021 of listed and unlisted assets on behalf of institutional and private wealth clients in France and internationally. Its main shareholders are major French insurance companies, for whom OFI AM developed a strong expertise in insurance linked strategies and tailormade discretionary portfolio management.

Adel Nabhan Chief Marketing Officer, Degroof Petercam Luxembourg